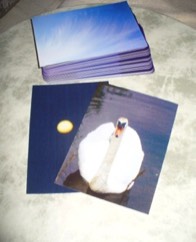 Oracle cards are also known as wisdom cards.

They can can assist us with insight by providing powerful images, words and messages, encouraging positive thinking. They can help to provide a greater understanding of who we are - how we think and how we behave.

Understanding just who we are enables us to see things more clearly, perhaps change our perception of a situation or event. The reader, by giving gentle advice and support, can open us to options that we might not have considered or assist us to open our minds to explore all possibilities.


Do you have a question that needs an answer?

Are you stuck in a rut and cannot see a way out?

Are you being indecisive, procrastinating?

Perhaps a reading would be beneficial for you.

Why not explore your potential.